Finch Cabin
From: $179.00
Calabogie, Ontario
Sleeps 3 | 128sq/ft | Pup-Friendly
Summer (May-Oct): $199 Weeknight | $214 Weekend | $239 Holiday
Winter (Nov-Apr): $179 Weeknight | $194 Weekend | $219 Holiday
Our Calabogie cabins (Finch, Starling and Wren) are located on the forested grounds of 
Calabogie Peaks Resort
, suspended above the shores of Calabogie Lake near the base of Dickson Mountain. Each cabin offers expansive views of the lake and land below with direct access to some of the best hiking trails in Southern Ontario. Experience breathtaking views, world class hiking, cycling, skiing, and more. Explore thousands of acres of crown land through the lush Ottawa Valley — including the renown Eagles Nest lookout!
As part of our partnership with Calabogie Peaks Resort, Resort Day Passes (optional) are available to Cabinscape guests who want the full resort experience. The resort offers limitless seasonal activities like snowboarding, paddling, tennis, a public beach, golf course, spa and two on-site restaurants.
Located away from the main resort on a secluded part of the property, all three cabins are identical in design and come with their own fire pit, BBQ and picnic table. Each cabin is located about 200-300 metres apart from its neighbour on its own forested lot. These cabins are ideal for guests who prefer to be close to amenities with access to lots of outdoor activities. (If you're looking for a more remote/backcountry wilderness experience, you'll want to check out our medium or high remote level cabins).
Access: AWD or 4WD vehicle recommended (or a short hike in from the parking area)
Hike-In: 50 Meters (Winter Only) | Remoteness: Low 
Activities at this cabin:
Onsite:
Nearby:

☼ We require a 2-night minimum stay / 3-nights on long weekends
☼ A $40 cleaning fee for tents & a $50 cleaning fee for cabins will be included in your reservation total
☼ HST will be added on the checkout page
We book up to 5 months in advance and open reservations on a revolving monthly basis. April 2023 dates NOW OPEN! May dates open January 1st.
THIS CABIN INCLUDES:
2 Queens
Indoor Toilet
Fan and Heat
Stovetop
Sink*
Mini Fridge
Cookware
Drinking Water
Salt, Pepper, Olive Oil, Sugar & Coffee
BBQ
Campfire
Patio Furniture
Mini Library
*There is NO running water or shower at this cabin. Public showers are available at Calabogie Peaks Resort with the purchase of a Resort Day Pass.
OFF-GRID BASICS
This eco-cabin is completely OFF-GRID. (Don't let this scare you). Our cabin is modernized and solar powered with electricity and heat. Feel good knowing that you're choosing a low-carbon, eco-friendly getaway. As an off-grid cabin, energy conservation is key. Drawing too much energy may cause you to lose power, so you'll need to be mindful of your consumption during your stay. There is a back-up generator when solar power is low.
LEAVE NO TRACE
All garbage and recycling must be packed up and taken home with you upon departure.
THINGS TO DO
Hit the trails! Calabogie Peaks Resort is the trail head for a fascinating network of Ontario hiking and cycling trails that expand beyond the resort boundaries and cross over thousands of acres of Crown Land
Fish, swim or paddle at the resort's private beach*
Play a round of golf at Ironwoods 9 hole golf course*
Hit the ski slopes!*
Experience fine dining at the resort's Canhooks Restaurant or grab a bite on the waterfront at the Boathouse Bar & Grill.
Visit the scenic town of Calabogie for shopping, dining and events
Visit Calabogie Brewing Co.
*Resort Day Pass required (extra cost)
*Ski Lift Pass required (extra cost)

BE AWARE
Hike-in Access Only (Nov-May) – 50 meters or less than 5 minutes
Drive-in Access (May-Oct) – AWD or 4WD vehicle strongly recommended
If you do not have a suitable AWD or 4WD vehicle, hiking to the cabin is also an option! (It's a short uphill hike from the parking lot).
This cabin is rated "low" on our remoteness scale. While still private, the cabin is located nearby other cabins and near a private access road. It is the closet cabin to our private parking area, making it an easy 50 metre hike for those who choose to hike in.
DRIVE IN / HIKE IN ACCESS
In the Summer and Fall months, only high clearance cars with 4WD can access this cabin. Our laneways are not plowed in the winter months. This means that all our cabins become "hike-in access only" when the snow gets too deep to drive through. Guests visiting us in November should ensure that they have a suitable car equipped with snow tires. Please be aware that snowfall as early as November may mean that you'll need to hike into your cabin. We'll provide you with snowshoes and a sled to haul your gear.  Consider it an adventure! 
FAQs
What makes this location awesome?
Enjoy direct access to some of the best hiking in Ontario! Take in lake views from your cabin and spectacular vistas on trails right out your door. There's also great cycling, swimming, paddling, skiing and snowshoeing in the winter. This Cabinscape is located on the forested grounds of Calabogie Peaks, a four season country resort located on the shores of Calabogie Lake at the base of Dickson Mountain, just 50 minutes from Ottawa. The property includes a full service boutique hotel and condo suites all at the base of the tallest ski resort in Ottawa Valley. Renowned as one of Ontario's leading destinations, the resort's country warmth and luxury are combined with limitless seasonal activities. For a full list of summer resort activities, visit Calabogie Peak's website.
When is check-in and check-out?
Entry is by lock-box and key. Check in time is 3 pm. Check-out is 11 am.
What if I need assistance during my stay?
We are always a phone call or text away for any questions or assistance. Our on-call property manager lives nearby and can be available on-site when needed.
What should I bring?
Your own food & drink
Your own towels, sheets, pillows, pillow cases and blankets
Firewood
Bug repellent
Hand sanitizer
Does this cabin have running water or a shower?
No. Our Micro cabins do not have running water. We provide 40L of water for dish washing and drinking. Public showers are available at Calabogie Peaks Resort with the purchase of a Resort Day Pass.
Can I bring additional guests?
Yes. This cabin can accommodate up to 3 guests. The base rental rate includes 2 guests.
Is there WIFI/Cell Service?
There is NO WIFI access at this cabin. There is reliable cell reception. However, access to data is slow and spotty. Don't plan on having a Zoom meeting here.
What electronics can I use at the cabin?
There is one outlet in the kitchen for charging your phone and laptop but charging multiple phones / laptops will drain the cabin's battery quickly. We DO NOT recommend using the outlet for high voltage items like hairdryers, coffee makers, kitchen appliances, etc. This is a low voltage outlet and power outages will result. Health-related items like CPAP machines cannot be accommodated at our cabins. Feel free to reach out to bookings@cabinscape.com for clarification on what machines/electronics can be used at our cabins.
What is included in the Resort Day Pass?
Cabinscape guests who wish to enjoy the resort's amenities may purchase a Resort Day Pass. Day passes can be purchased at the front desk at Calabogie Peaks Resort. The cost is $29 (per person) or $89 (per family). Your Day Pass includes….
Access to the Private Beach Club
Unlimited golf, tennis and boating (canoes, kayaks, pedal boats and paddleboards)
Access to hotel pool & hot tub, showers, day lockers & Exercise Room Facilities
(currently closed due to COVID)
Fall colour chairlift rides
Pond skating
Nightly bonfires


Access to the resort's hiking/snowshoeing trails is open to all Cabinscape guests (with or without a Resort Day Pass).
Are there bugs & critters!?
You bet. Depending on the season, you'll encounter bugs of all sorts. Bugs, rodents and wildlife are a reality of the wilderness. Guests should come prepared with bug spray and proper protective attire. Ticks have also been a major issue across Ontario. Please do your research ahead of time and learn how to properly check yourself for ticks.

While we do our best to protect our cabins from pesky critters by having them seasonally sprayed, critters can sometimes find their way into the cabin. That's why it's important to keep your food sealed and stored. If you're squeamish around bugs or critters, you may want to consider another kind of getaway.
Is this cabin pet friendly?
Yes! You are more than welcome to bring your furry friends for an extra fee of $25/per night. Select the "Pet Pal" option at checkout. Up to two dogs per booking is permitted. (We do not make exceptions to this rule).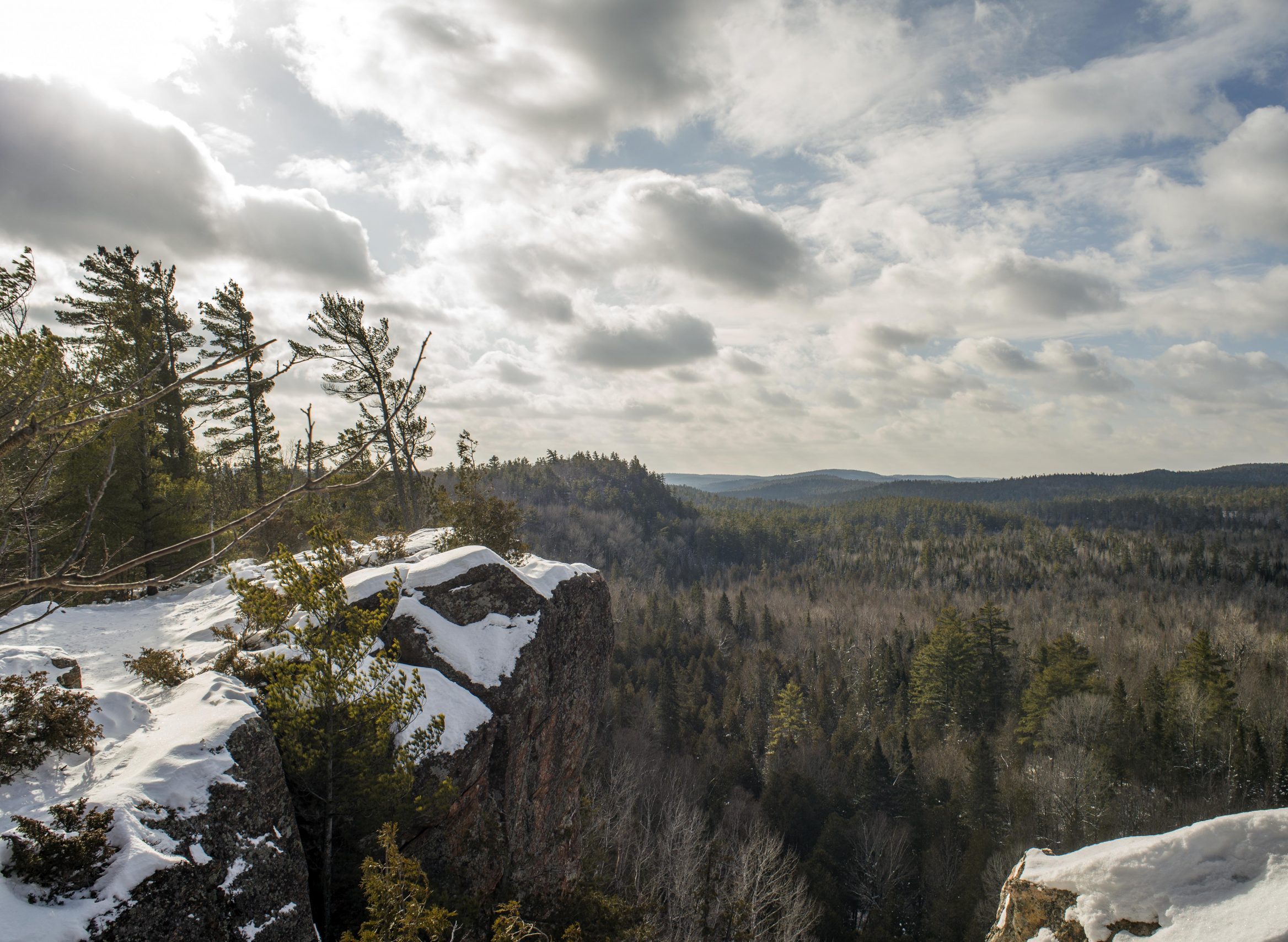 Our Guide to Winter in Calabogie
From epic snowshoe trails to extreme winter sports, we've rounded up our Top 5 Things to Do in Calabogie during your Cabinscape stay.