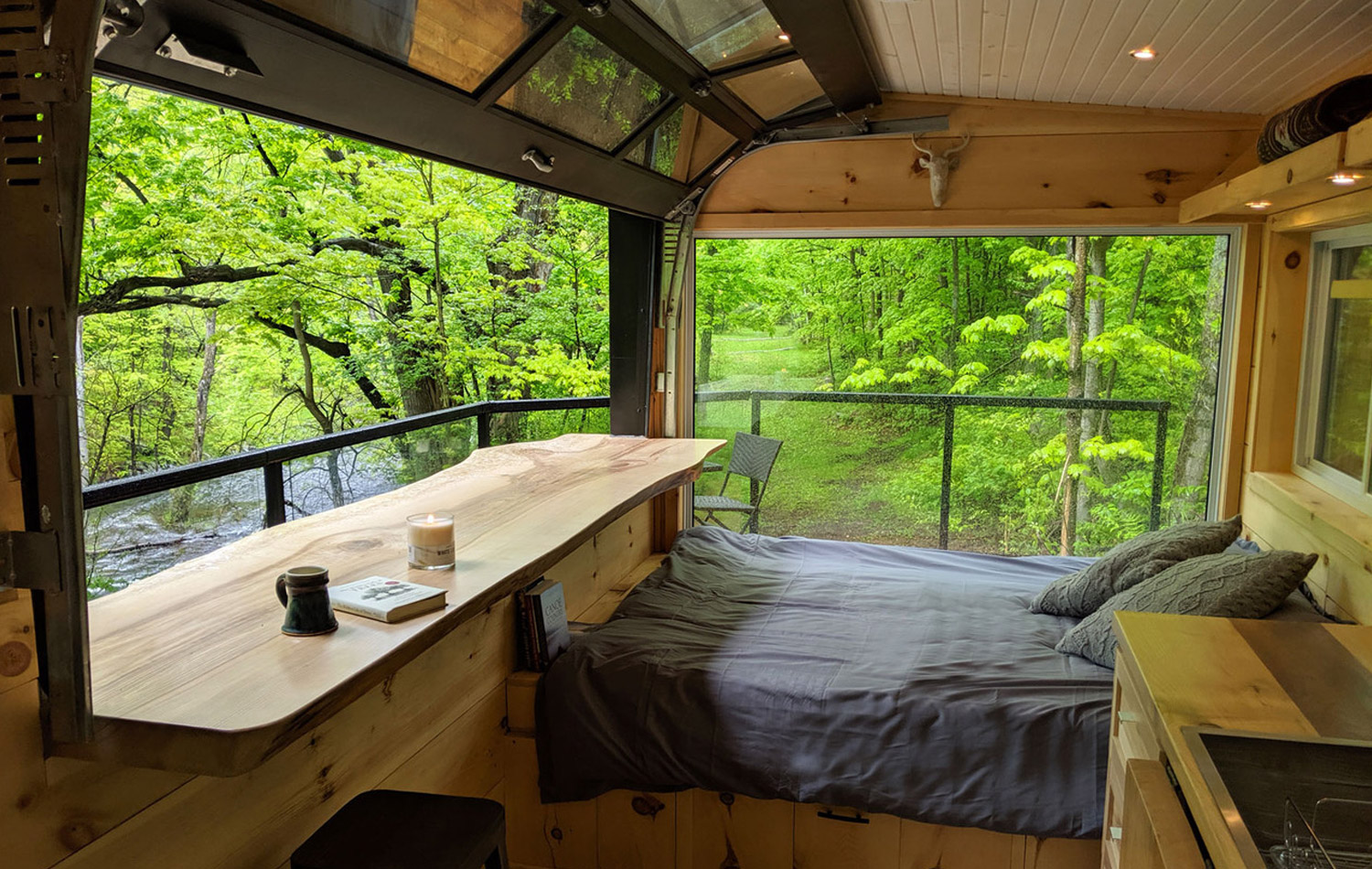 FREQUENTLY ASKED QUESTIONS:

Our Booking Process:
– How can I make a reservation?
All reservations happen on our website. We book up to four months in advance and open reservations on a revolving monthly basis. We always open a new month on the first of the month at 8am. If you'd like a reminder in your inbox, join our newsletter list.
Due to the increasing demand of our cabins and nature getaways in general, we are now using a queuing/waiting line system (similar to Parks Canada). This queue system will ensure that our website can handle the very high traffic that we've been seeing over the last year. When you enter our website on the first of each month or during a new cabin launch, you'll be added to a virtual queue line before accessing our website. Reservations are made on a first come first serve basis.
– What is the minimum length of stay?
We have a two-night minimum booking policy and three-nights on long weekends.
– I see single nights on the calendar. Can I book just one night?
No. The single nights you are seeing on the calendar are vacant nights sandwiched between two other bookings. For the time being, in light of COVID-19, we are keeping those single nights in place to limit capacity and to give our cleaners some extra time to thoroughly prepare the cabins. We have a two-night minimum booking policy and three-nights on long weekends.
– Why are there greyed-out dates on the calendar?  Are these already booked? 
Due to COVID-19 and multiple closures of our operations, we've had to reschedule months worth of cancelled guests into future dates that have not yet been released to the general public. Unfortunately, this has made availability more limited this year. Any darker grey dates you see on the calendar are not available. We understand this is a disappointment. Please know, we're working hard to build more cabins and create new Cabinscapes to host more of you. Thanks for your patience and understanding.
– What is your cancellation policy?
All cancellations or changes to your booking must be made via email. There is a cancellation charge corresponding to the number of days your cancellation is made, prior to the day of your expected arrival:
Cancel under 24 hours from making your reservation = 95% Refund

More than 14 days prior to check-in = Majority Refund (80% of the total booking amount)
8-14 days prior to check-in = Partial Refund (50% of the total booking amount)
7 or less days prior to check-in = No Refund
A change to your reservation date or a change from one cabin to another cabin is considered a new reservation and will be subject to the standard cancellation policy above.
****COVID-19 Modified Cancellation Policy*****
Any guests who cannot visit us due to a mandated Government shut-down, will be offered a full credit for their reservation to re-book at a future date OR a refund in line with our standard cancellation policy above.
– Do you have a waiting list?
We do not have a formal waiting list, but we do feature all available cabins (including last minute cancellations) at the top of our Book Now page in the "What's Available?" section: https://www.cabinscape.com/book-now/. We keep this section updated regularly so check back often. We also announce all last minute cancellations on our Instagram and Facebook accounts (mostly as "stories").
– I have a gift certificate. How can I use it?
Each gift certificate is assigned a unique code that can be applied during checkout on our website. Enter this code in the "promo code" section of the payment page. If you do not have a code on your gift certificate, you likely have one of our older gift certificates. In this case, please reach out to bookings@cabinscape.com in advance of making your reservation so we can give you your promo code. Please note: The value of a gift certificate code cannot be retroactively applied to an existing reservation, and must be used during the booking process on our website to be applied.
Our Cabins:
– Will you be opening more cabins!?

Yes! We've just opened up several new cabins in Calabogie and Haliburton, Ontario. We're opening up more new cabins this July and August in Kawartha Lakes and Muskoka. Get on our newsletter list for updates on new cabin launches.
– Your cabins are off grid? What does that mean?
Yes, our cabins are off-grid and ecologically sound tiny cabins on wheels. Don't let the "off-grid" part scare you. Our cabins are modernized and solar powered with electricity and heat. Feel good knowing that you're choosing a low-carbon, eco-friendly getaway. As an off-grid cabin, energy conservation is key. Drawing too much energy may cause you to lose power, so you'll need to be mindful of your consumption during your stay. There is a back-up generator when solar power is low. All cabins comes with a gas stove, bbq, heater, mini fridge, lights, indoor composting toilet, and one electrical outlet to charge low voltage items like your phone or laptop. There is no air conditioning in our cabins but we provide a fan.
– How remote are your cabins?
Our cabins are placed on beautiful, rugged and private properties that overlook lakes, rivers, meandering creeks and forests — all with varying levels of remoteness to suit your personal adventure style. Whether you want to be nestled in the woods nearby other cabins, or want a truly remote and isolated back-country getaway, we have a cabin for you!

Each of our cabins have been graded on their level of remoteness: low, medium & high. You'll find this grading system on each cabin page. Always review each cabin page carefully, especially the "Be Aware" section, for specific details regarding driving/hiking access and remoteness levels.

Our "High" remote cabins are best suited for guests who feel comfortable being alone in the wilderness and who've had some experience back-country camping. These cabins are more isolated than the rest. They often require 4WD or AWD vehicles to access as many are located on rugged roads that are off-the-beaten path.
High – Mica, Willow, Kaya, Big Rock, Quasi, Cove & Penner

Our "Low" remote cabins (although still private) are often close by other Cabinscape cabins and local amenities. These are easier to access with regular front wheel drive vehicles.
Low – Juniper, Joni, Wren, Starling, Finch, Sage, Pine, Moss, Adhara, Aster, Luna, Sol, Hawkweed, Stonecrop and Woodrush.

Our "Medium" remote cabins are a happy medium between our High and Low remote level cabins.
Medium – Bone, Baylight, Mason, Ember

– Are your cabins pup friendly?
Many of our cabins are pup friendly (but some are not). For those that are pup friendly, we welcome one pup at a time. (We do not make exceptions to this rule… no matter how small or well behaved your pup is). Dogs are considered additional guests and are subject to our additional guest fee of $25/per night. Cabins that are pup-friendly will say "Pup-Friendly" at the top of the cabin info page, near the location and pricing details. Sorry, other pets (like cats) are not permitted.


– What happened to your Dashi cabin in Bayfield?
Due to unforeseen circumstances, we have had to re-locate our Dashi cabin. This cabin is now located in Haliburton Forest and is called Quasi cabin to avoid confusion.
– Who designs/builds your cabins? Do you sell your cabins to others?
We design and build all our own cabins in house. At this time, we are only building cabins for our own properties. We do not build for others.
Still have questions?
Feel free to contact us directly with more questions. We're always happy to help you plan your next adventure.
Best,
John and Laura
Co-Owners
CABINSCAPE

Email: bookings@cabinscape.com