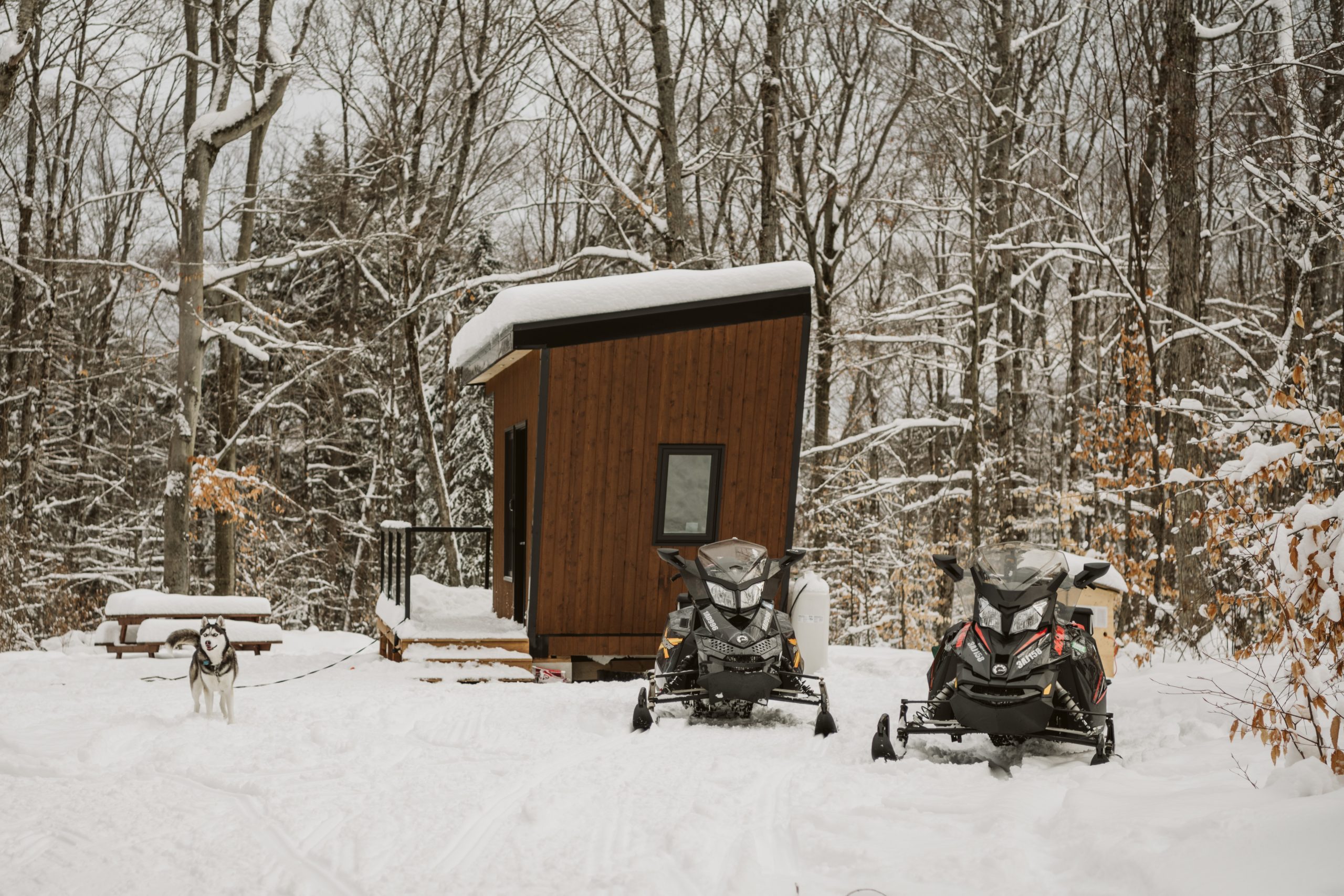 Our Guide to Winter Adventure in Haliburton
CALLING ALL WINTER ADVENTURERS!
From snowmobiling to howling with wolves, strap on your snowshoes and explore all the seasonal thrills this 'wonderland' has to offer!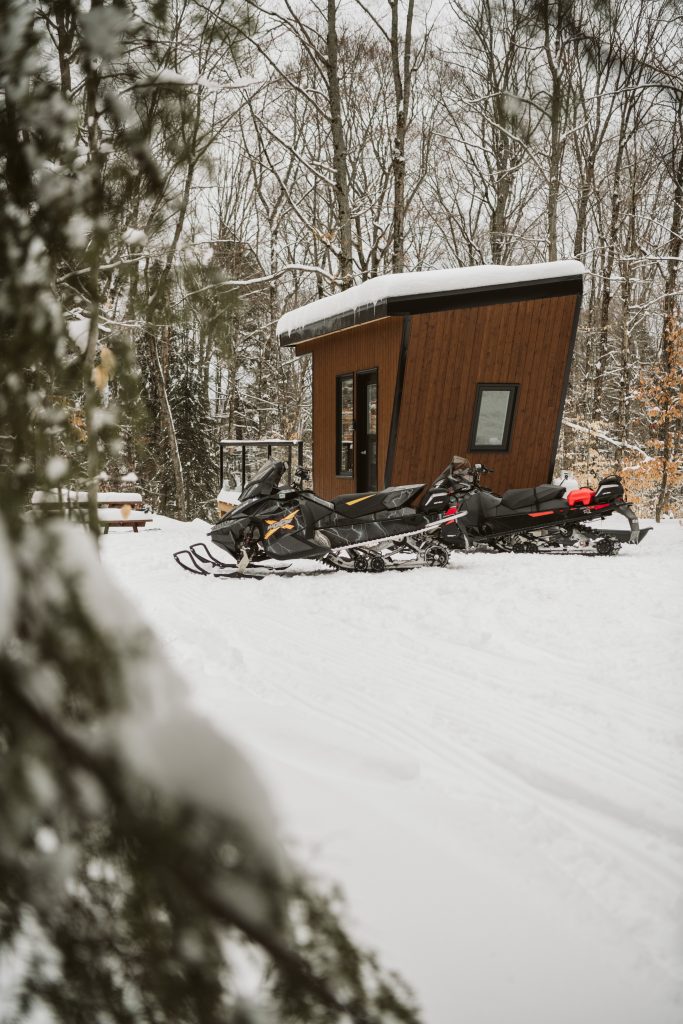 SNOWMOBILING
Haliburton Forest is the ultimate snowmobiling destination for winter enthusiasts! Known as "Ontario's snowmobiling wonderland" and offering over 400 km of well-developed and maintained snowmobile and winter ATV trails, Haliburton Forest is considered to be one of the Top 10 snowmobiling destinations in North America.
The quality of the snowmobiling experience is what sets this site apart – by limiting the number of passes and having an extensive network of trails, riders never experience a back-to-back lineup. Gasoline, oil, snowmobile rentals and food are available at Base Camp.
Passes sell out fast and are already limited on weekends for the 2023/2024 season. But don't worry if you missed out, snowmobile passes are included with bookings at CABINSCAPE Sage, Pine and Moss cabins near Base Camp and our two brand new cabins Ivy and Jade.
Valid ownership and insurance per snowmobile/ATV (no side-by-sides permitted) must be presented to staff in the Main Office upon check-in.
HIKING/SNOWSHOEING
While many of Haliburton Forest's 400 km of trails are reserved for snowmobiling during the winter months, there are still plenty of options available for those interested in hiking or snowshoeing the extensive trail network. The routes are well-marked and maintained varying from easy, flat walks to more adventurous routes. Feel free to pop into Base Camp on your way in for a hardcopy trail map and further suggestions.
Two pairs of snowshoes are included with all CABINSCAPE winter bookings. Strap them on and explore! Fat bikes are invited anytime when snowmobile/ATV trails are closed (typically end of March).
Keep your eyes open for sightings of wildlife including wolves, groundhogs, red foxes, snowshoe hares, deer, moose, and many more wild animals that live in the Forest!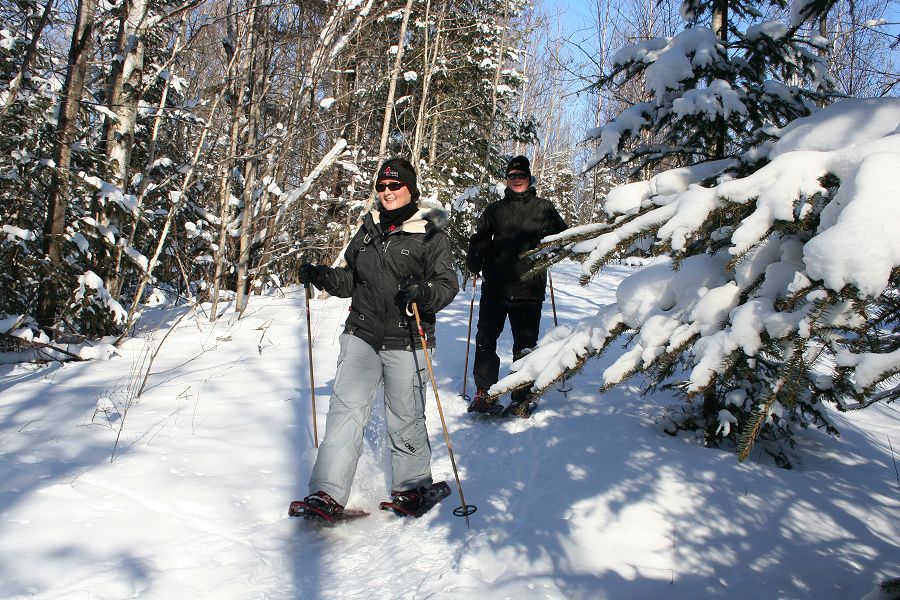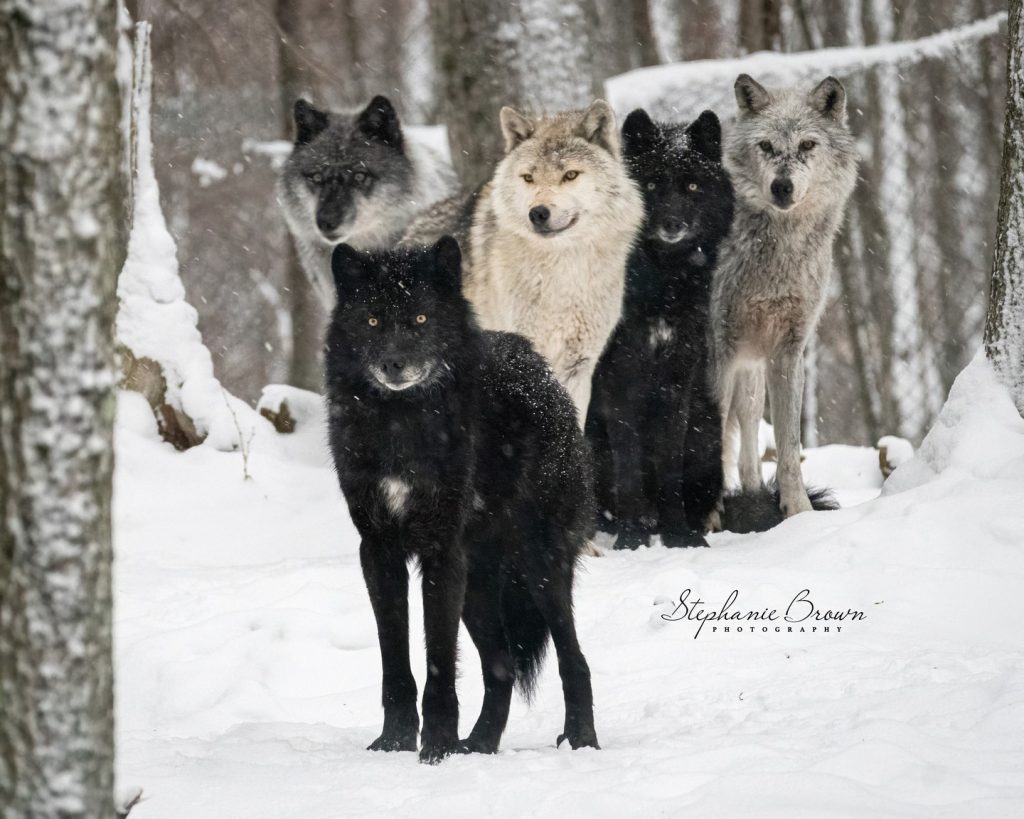 WOLF CENTRE
Witness and learn about the pack of wolves that live and roam freely on a 15-acre reserve at the Wolf Centre – one of Haliburton Forest's main attractions! It is recommended to visit this season to see the majesty of wolves in their thick winter fur. They are also typically more playful and active in the cooler weather.
Two indoor observation areas are designed to mimic the wild as closely as possible which means the wolves maintain much of the behaviour and social structures of wild packs. Guests are able to watch them in a way that is not typically possible in a zoo environment.
There is lots going on at Haliburton Forest throughout the season including forest concerts, a logging museum, trail run marathons and more! Check out their website for the latest events and activities.
Entry to the Wolf Centre is by advanced reservation only. No walk-ins are permitted.
ICE FISHING
Imagine a natural and pristine frozen lake and you are the only person fishing on it. Known traditionally as "trout country", Haliburton Forest is an angler's delight with over 100 lakes, numerous large ponds and miles of streams and creeks, offering year-round fishing for everyone.
Though most lakes are only accessible by Snowmobile or ATV during the winter months, guests at our lakefront cabins can try their hand at ice fishing on-site! An extensive fishing guide to Haliburton Forest's waters is available at the Base Camp office.
Although Haliburton Forest is privately owned, provincial Fish and Game Laws do apply and will be enforced.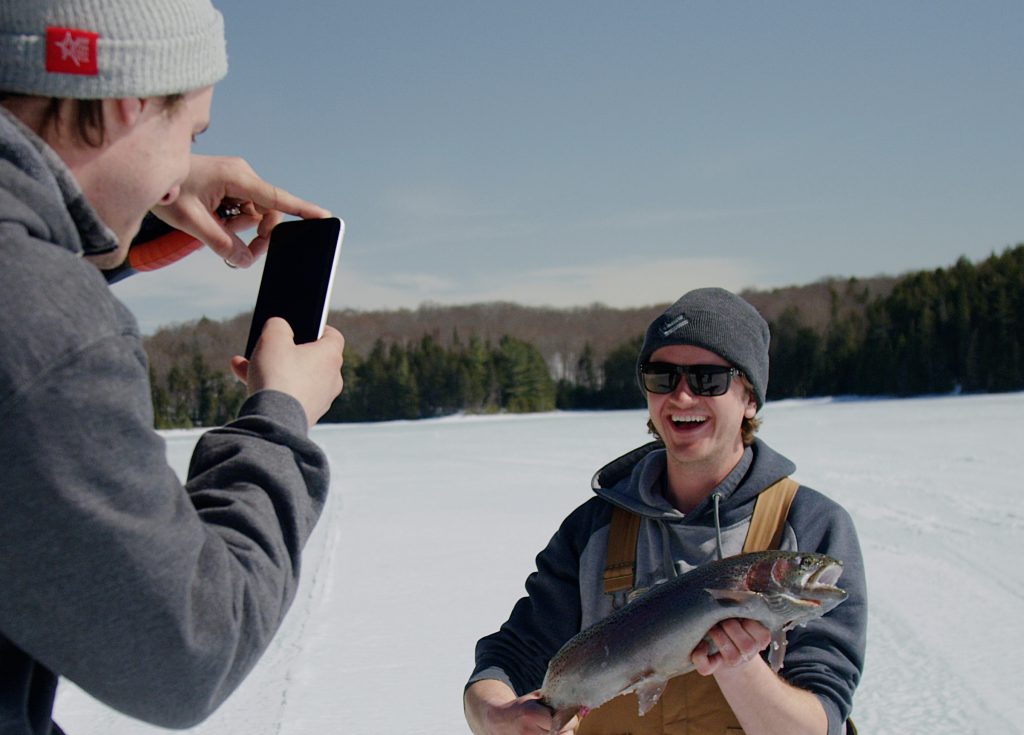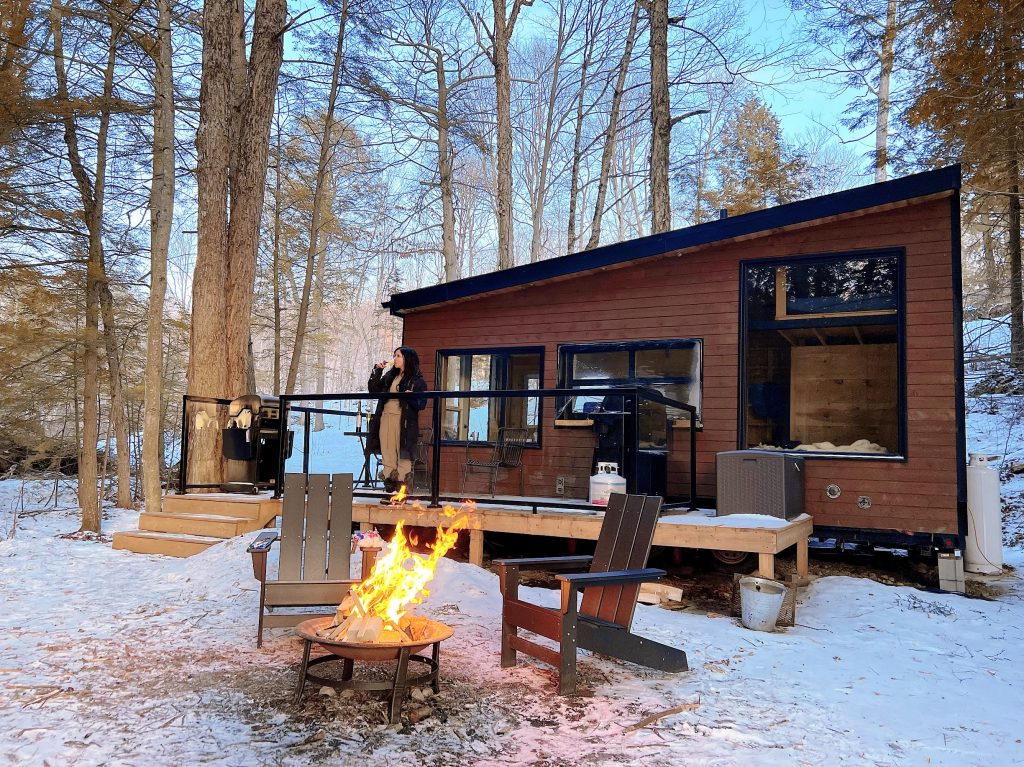 RELAX, READ, STARGAZE
Hunker down after your adventures at our tiny, heated and cozy cabins. Read a book from our small library and disconnect in the wilderness. Try your hand at some comfort food and hearty winter cooking on the stove, campfire or BBQ available year-round.
Enjoy the quiet of the outdoors and don't forget to look up! Amazing views of the night stars and sky are just above you…
ARRIVE IN STYLE! Pet-friendly snowmobile shuttle service for check-in and check-out is available at our Sage, Pine, Moss, Ivy, Jade, Big Rock, Willow, Kaya, Quasi and Cove cabins in Haliburton!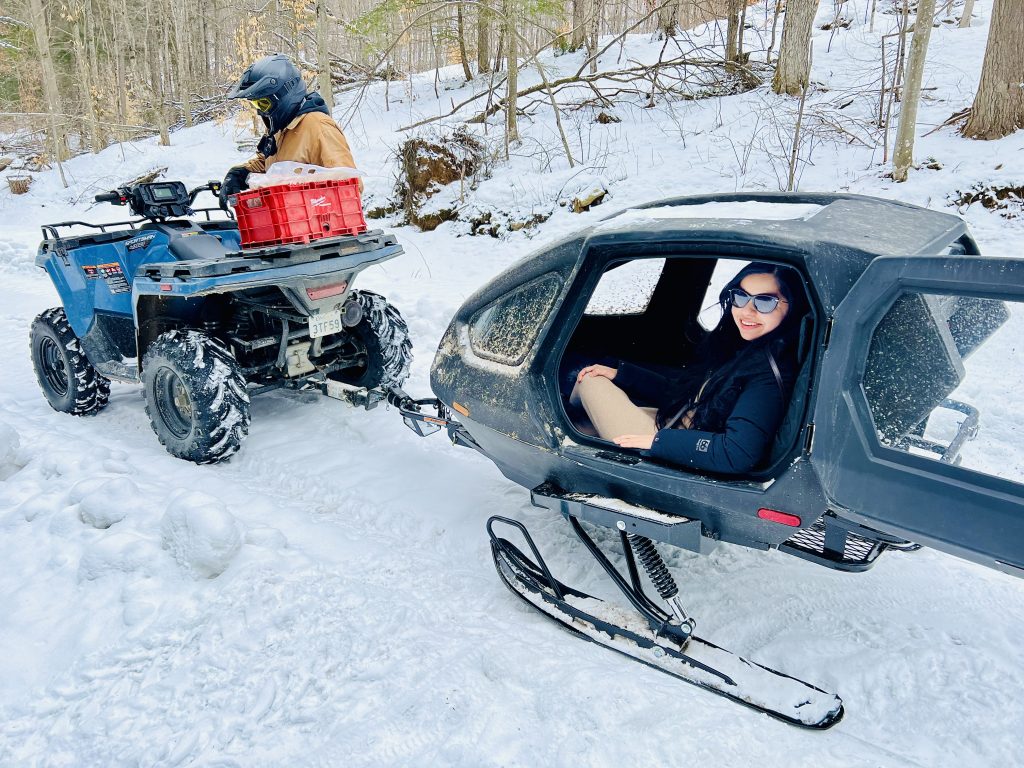 Our Haliburton Cabins
Photo credits
Header & snowmobiling images: @chrisandnicole__, First image: @atlas.alexa, Snowshoe: myhaliburtonhighlands.com, Wolf Centre: @haliburtonforestwolfcentre, Relax & shuttle image: @natashainwanderland, Ice Fishing: yoursoutdoors.ca