Cabin Chaser Package
From: $595.00
Virtual Itinerary starting at $595 | Mailed Itinerary & Gift Set starting at $725
Are you ready for an adventure? Cabin Chaser is a two-night mystery road trip and cabin hopping experience designed specifically for two guests! Gear up for the festive season with our holiday trip OR gift one of our new routes for a getaway later this winter.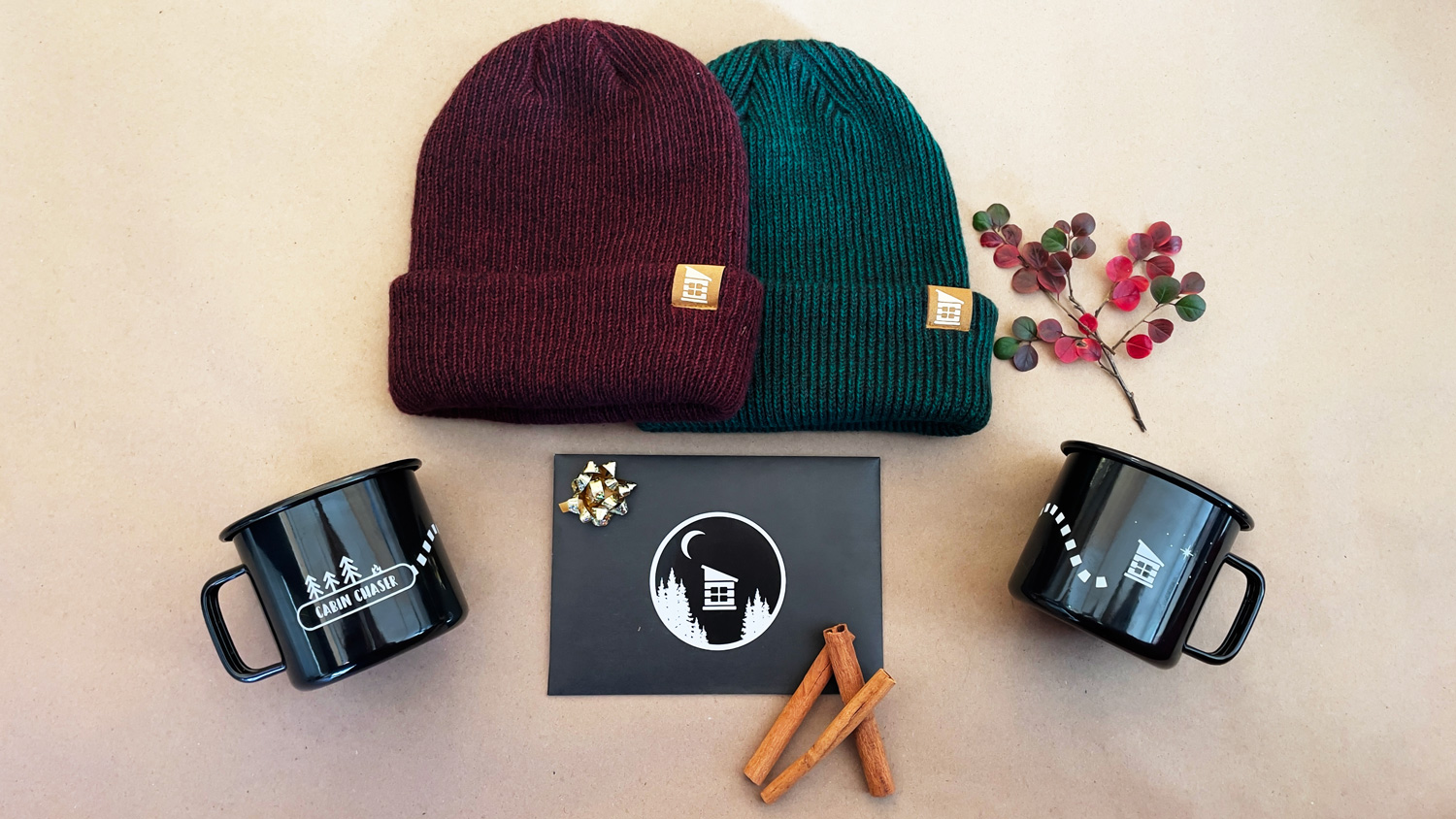 Experience the holidays!
These surprise itineraries are custom developed for every reservation, with weekday stops starting right from your home base. Pit stops include foodie favorites, small town farms, incredible vista views, cute local shops, and festive hangouts to get you into the spirit of the season! This festive route is exclusively available between mid-November & January 13th, 2023, and will take you on a journey from your homebase to the Kawarthas, then to Muskoka and back again. The custom Kawarthas-Muskoka trip is available for a limited time only, so come enjoy the holiday magic while you can!
Looking for the perfect gift?
We know that experiences make a special gift for adventurers over the holidays, and we have you covered! While our "holiday spirit" route between Kawarthas and Muskoka will no longer be available as of January 13th, 2023, we are excited to launch TWO new routes for Cabin Chaser bookings taking place between January 16th & March 10th, 2023! See the details of these two route below, and simply select your preferred option upon check out.
Ottawa Valley Route | Recommended for those located close to Ottawa & east of the GTA, this route will take you from the maple capital of Canada, Lanark County, to the mountainous ranges of Calabogie, ON. Guests should be aware that this trip requires guests to hike-in a distance up to 1km with gear. Sled & snowshoes are provided at each overnight stop.
Highlands Route | Best suited for those in the GTA or further North, this route will guide you from your home-base to our cabins in the Kawarthas, up to Haliburton Forest Wildlife Reserve near Minden, ON. Guests should be aware that while no hike-in is required for this trip, booking a time for our Haliburton Forest shuttle service upon arrival is required (the shuttle fee is waived for all Cabin Chaser guests).
All Cabin Chaser trips include…
A customized digital itinerary for a three day (two night) road trip in Southern Ontario, with two to five surprise stops per day* (pet friendly suggestions available at additional cost)
One night waterfront accommodation for up to two people at your first location
One night accommodation for up to two people at your second location (either waterfront OR featuring a scenic view)
Road trip gift box with hard copy itinerary to unwrap (optional add-on)

Two limited edition "Cabin Chaser" camping mugs (mailed kit exclusive)
Two CABINSCAPE ribbed trail toques (mailed kit exclusive)
How to Book
1) Select  2-nights from our booking calendar
2) Choose either Virtual or Mailed Itinerary/Gift Set
3) Choose your trip (only applicable for bookings taking place January 13th onward)
4) Wait for you your custom itinerary (sent within 1 week of arrival)
Please note that some stops may require an entrance fee or donation. These are not included in the package fees. This package is available for two sequential weeknights only. Additional nights can be added at an additional cost. To add nights to your reservation, please reach out to bookings@cabinscape.com for availability.
ACCOMMODATIONS INCLUDE:
1 Queen Bed
Indoor Toilet
Fan and Heat
Stovetop
Sink*
Mini Fridge
Cookware
40L of Drinking Water
Salt, Pepper, Olive Oil, Sugar & Coffee
BBQ
Campfire
Patio Furniture
Mini Library
*There is NO running water at these cabins until the Victoria Day long weekend.
OFF-GRID BASICS
Our eco-cabins are completely OFF-GRID. (Don't let this scare you). Our cabins are modernized and solar powered with electricity and heat. Feel good knowing that you're choosing a low-carbon, eco-friendly getaway. With off-grid cabins, energy conservation is key. Drawing too much energy may cause you to lose power, so you'll need to be mindful of your consumption during your stay. All our cabins have a back-up generator when solar power is low.
LEAVE NO TRACE
All garbage and recycling must be packed up and taken home on your departure.
BE AWARE
The festive Kawarthas-Muskoka & the Highland routes are drive-in accessible (winter tires required). The Ottawa Valley route may require a hike-in of up to 1km.
Our cabins do not have running water for the rest of the season (until the Victoria Day long weekend). 40L of potable water is provided for drinking and dish washing.
Fishing is not permitted at these locations.
FAQs
How far do I have to travel?
Each trip is customized for each reservation based on your homebase location. The trip will feature overnight stops just outside of Kirkfield, ON and Huntsville, ON. It takes under 2 hours (140km) to get from the first overnight stop to the second overnight stop, but keep in mind, there will be recommended stops along the way.
Can I bring my pup?
Yes! While we typically do not allow pups on our CABINSCAPE Camp properties, we are making a special exception for guests who want to bring their pups on this adventure. Be sure to select the "pet pal" option during booking, so we can ensure your itinerary is developed with your furry friend in mind!
When do I have to leave?
Ultimately, it's up to you! All our itineraries feature 3-5 stops per day, and while we recommend getting an early start to take advantage of the opportunity to fully explore each stop, by no means is it required. The relevant details and operating hours for each stop are listed in your itinerary, so you can make a decision what will work best for you. Cabin Chasers are welcome to check into their cabins as early as 3PM, meaning the earlier you make it to the site, the more you can explore the beautiful lakes and trails on our property!
How do I prepare?
We will send your custom itinerary 5-10 days before your visit, with details on approximately how long each stop will take. While there will be surprise stops along the way, we will highlight any recommended stops that require pre-booking (and provide details on how to book). It is the guest's responsibility to coordinate the arrangements for these particular stops.
Beyond that, guests simply need to pack for their adventure. Our recommended list includes:
Your own food & drink
Your own towels, sheets, pillows, pillow cases and blankets
Firewood
Bug repellent
Hand sanitizer
What if I need assistance during my stay?
We are always a text or email away for any questions or assistance. Our on-call property manager lives nearby and can be available on-site when needed.
Will I have access to running water or a shower during my stay?
No. Our cabins do not have running water in the winter months. We provide 40L of water for dish washing and drinking.
Can I bring additional guests?
No. This adventure is designed to accommodate up to 2 guests plus 1 pup. The base rental rate includes 2 guests. If you're bringing a pup, please select the "Pet Pal" option at checkout.
Is there WIFI or cell service?
There is NO WIFI access at our cabins. There is reliable cell reception. However, access to data is slow and spotty. Don't plan on having a Zoom meeting during your trip.
What electronics can I use at the cabin?
There is one outlet in the kitchen for charging your phone and laptop but charging multiple phones / laptops will drain the cabin's battery quickly. We DO NOT recommend using the outlet for high voltage items like hairdryers, coffee makers, kitchen appliances, etc. This is a low voltage outlet and power outages will result. Health-related items like CPAP machines cannot be accommodated at our cabins. Feel free to reach out to bookings@cabinscape.com for clarification on what machines/electronics can be used at our cabins.
Are there bugs or critters?!
You bet. Depending on the season, you'll encounter bugs of all sorts. Bugs, rodents and wildlife are a reality of the wilderness. Guests should come prepared with bug spray and proper protective attire. Ticks have also been a major issue across Ontario. Please do your research ahead of time and learn how to properly check yourself for ticks.
While we do our best to protect our cabins from pesky critters by having them seasonally sprayed, critters can sometimes find their way into the cabin. That's why it's important to keep your food sealed and stored. If you're squeamish around bugs or critters, you may want to consider another kind of getaway.