Archer Cabin
From: $204.00
Huntsville, Ontario
Sleeps 2 | 105sq/ft
Summer (May-Oct): $224 Weeknight | $239 Weekend | $264 Holiday
Winter (Nov-Apr): $204 Weeknight | $219 Weekend | $244 Holiday
(Limberlost Forest Day-Use Access & Conservation Fee Included)
Archer cabin is located on our very own private lake in
Limberlost Forest & Wildlife Reserve.
Our Limberlost cabins are located on large Algonquin style sites surrounded by old growth pines and sweeping lake views.  Archer is one of the newest cabins added to our Muskoka fleet! All cabins are identical in design and come with their own fire pit, BBQ, Muskoka chairs, and picnic table. Two adult pairs of complimentary snowshoes are also included during your stay for winter bookings and a complimentary canoe is included for summer stays. 
As part of our partnership with Limberlost Forest & Wildlife Reserve and our commitment to sustainable development, a Conservation Fee is included in the rental price of our cabins. This conservation fee directly contributes to the ongoing research, youth education and sustainability initiatives of Limberlost Forest. As a guest, this fee allows for unlimited day-use access to the facilities and more than 70km of hiking, biking, skiing, and snowshoeing trails at Limberlost Forest, right outside your door!
Access: Drive-in Access Remoteness: Low
Activities at this cabin:
On-site:
Nearby:
SELECT THE NIGHTS YOU'D LIKE TO STAY IN THE RESERVATION CALENDAR ABOVE
☼ We require a 2-night minimum stay / 3-nights on long weekends
☼ A $50 cleaning fee will be included in your reservation total
☼ HST will be added on the checkout page
We book up to 4 months in advance and open reservations on a revolving monthly basis. March 2023 bookings are now open. April 2023 reservations will open January 1st, 2023.
THIS CABIN INCLUDES:
1 Queen Loft Bed
Indoor Toilet
Outdoor Shower*
Fan and Heat
Stovetop
Sink*
Mini Fridge
Cookware
Drinking Water
Salt, Pepper, Olive Oil, Sugar & Coffee
BBQ
Campfire
Patio Furniture
Mini Library
*There is NO running water at this cabin. It has a private outdoor shower in the summer months.
OFF-GRID BASICS
This eco-cabin is completely OFF-GRID. (Don't let this scare you). Our cabin is modernized and solar powered with electricity and heat. Feel good knowing that you're choosing a low-carbon, eco-friendly getaway. As an off-grid cabin, energy conservation is key. Drawing too much energy may cause you to lose power, so you'll need to be mindful of your consumption during your stay. There is a back-up generator when solar power is low.
LEAVE NO TRACE
All garbage and recycling must be packed up and taken home on your departure.
THINGS TO DO
Relax, read, stargaze
Hike, snowshoe or x-country ski the on-site trails in Limberlost Forest and Wildlife Reserve
Take a canoe ride on our lake (complimentary canoe included)
Visit the beautiful waterfront town of Huntsville for shopping, dining and events (20-minute drive)
Visit the world renowned Algonquin Provincial Park (30-minute drive to west gate entrance)
Ice skate through the forest at the famous Arrowhead Skate Trail (25-minute drive)
BE AWARE
This cabin has year round drive in access.
This cabin does not have running water. Potable water is provided for drinking and dish washing.
There is a shore dock at this cabin as it is a shallow entry.
Fishing is not permitted on this lake.
This cabin has one queen loft bed accessible only by climbing stairs. The loft is low and may feel confined for certain guests. There is also a removable hammock for sleeping/lounging.
DRIVE IN ACCESS
This cabin is a year round drive in cabin. The lanes accessing the cabin will be plowed throughout the winter. However, we strongly recommend 4WD or AWD drive vehicles with snow tires during the winter as country roads and plowed lanes can be difficult to navigate with low riding or 2WD vehicles.
FAQs
What makes this location awesome?
This Cabinscape is located in Northeastern Muskoka, right within Limberlost Forest and Wildlife Reserve, a private year-round wilderness haven with twenty lakes and more than 10,000 unspoiled acres of mixed forest. The picturesque waterfront town of Huntsville is a short 20-minute drive away for great shopping, cafes, restaurants and events. The world-renown Algonquin Provincial Park is only a 30-minute drive away.
How far apart are the cabins?
Our 10 cabins have been strategically placed to provide as much privacy as possible. Even when all fourteen cabins are in place, you will not see your neighboring cabin (although you may hear others out and about on the lake). Sites are big, beautiful and protected by ample tree coverage.
In order to create as much privacy for our guests as possible, we've opted for minimal tree clearing of our shorelines. This allows our cabins to be hidden amongst the trees and out of sight from other guests who may be out on the water.
Only cabins with shallow shorelines will have a shore dock in order for guests to access the lake. However, the majority of our cabins have deep lake access right from the shoreline. In these cases, shore docks are unnecessary. We have opted to keep our lake more natural, pristine and private rather than fill it with neighboring docks.
When is check-in and check-out?
Entry is by lock-box and key. Check in time is 3 pm. Check-out is 11 am.
What if I need assistance during my stay?
We are always a phone call or text away for any questions or assistance. Our on-call property manager lives nearby and can be available on-site when needed.
What should I bring?
Your own food & drink
Your own towels, sheets, pillows, pillow cases and blankets
Firewood
Bug repellent
Hand sanitizer
Does this cabin have running water or a shower?
Our Micro cabins do not have running water. We provide 40L of water for dish washing and drinking. This cabin has a private, outdoor shower operational only in the summer months.
Can I bring additional guests?
No. This cabin can only accommodate up to 2 guests.
Is there WIFI/Cell Service?
There is NO WIFI access at this cabin. There is reliable cell reception. However, access to data is slow and spotty. Don't plan on having a Zoom meeting here.
What electronics can I use at the cabin?
There is one outlet in the kitchen for charging your phone and laptop but charging multiple phones / laptops will drain the cabin's battery quickly. We DO NOT recommend using the outlet for high voltage items like hairdryers, coffee makers, kitchen appliances, etc. This is a low voltage outlet and power outages will result. Health-related items like CPAP machines cannot be accommodated at our cabins. Feel free to reach out to bookings@cabinscape.com for clarification on what machines/electronics can be used at our cabins.
Are there bugs or critters?!
You bet. Depending on the season, you'll encounter bugs of all sorts. Bugs, rodents and wildlife are a reality of the wilderness. Guests should come prepared with bug spray and proper protective attire. Ticks have also been a major issue across Ontario. Please do your research ahead of time and learn how to properly check yourself for ticks.
While we do our best to protect our cabins from pesky critters by having them seasonally sprayed, critters can sometimes find their way into the cabin. That's why it's important to keep your food sealed and stored. If you're squeamish around bugs or critters, you may want to consider another kind of getaway.
Is this cabin pup friendly?
In order to keep noise levels to a minimum and to consider all our guests on-site, we do not allow pets at any Cabinscape Camp developments. If you can't bear to leave your pup at home, consider booking one of our pup-friendly cabins.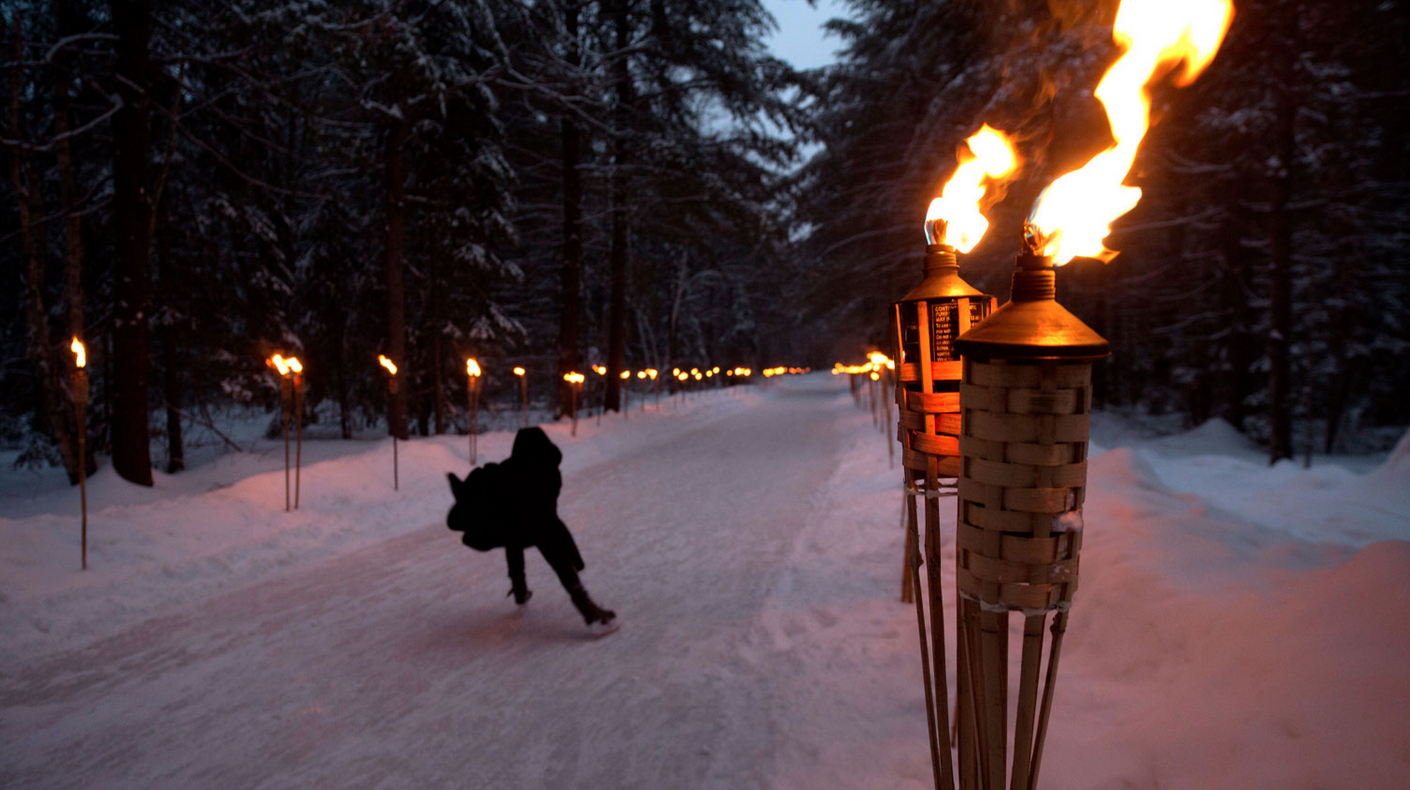 Our Guide to Winter in Muskoka
This winter season, discover Muskoka from one of our tiny cabins in the woods. As your cozy home base to the area, we've rounded up our Top 5 Things to Do in Muskoka during your Cabinscape stay.