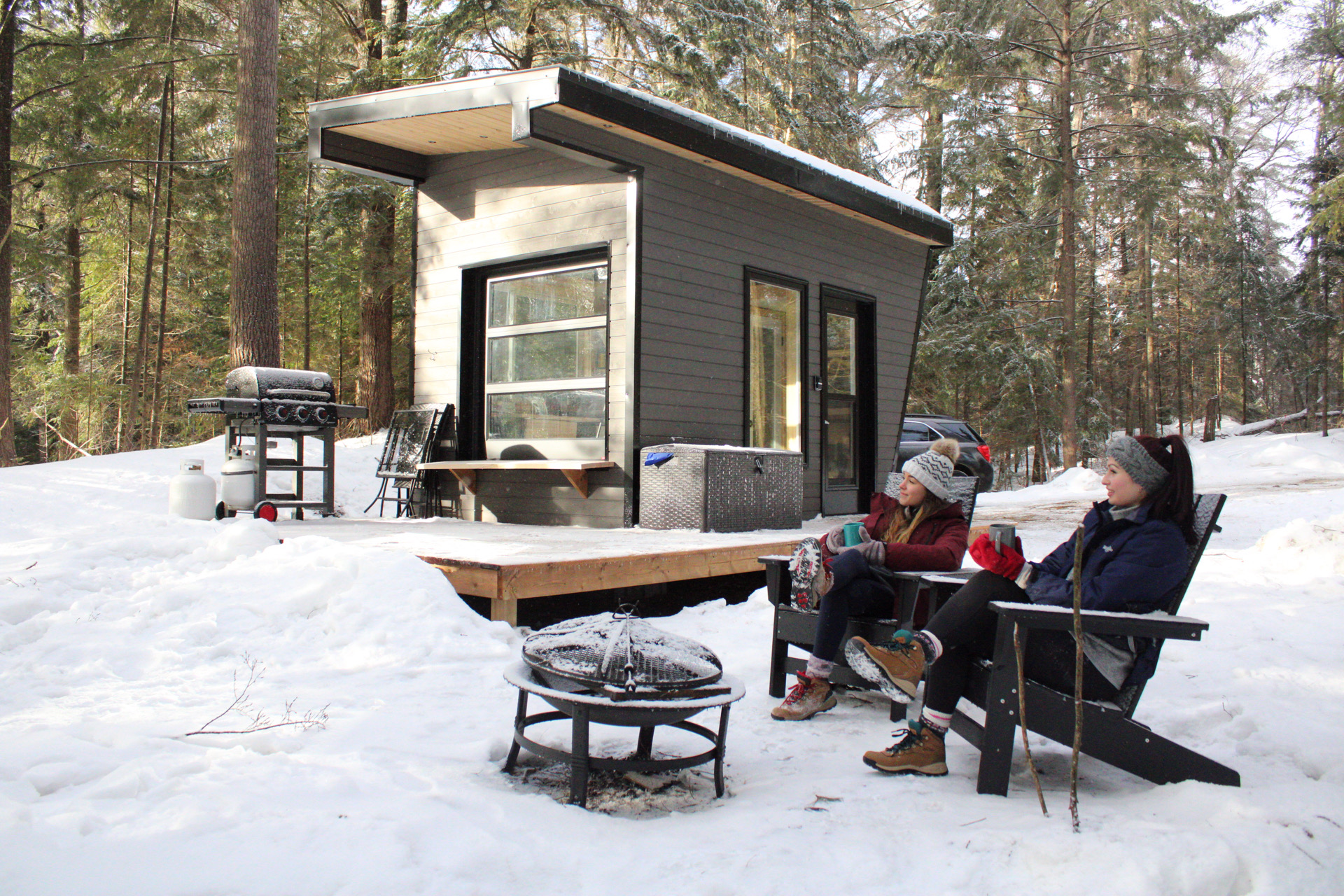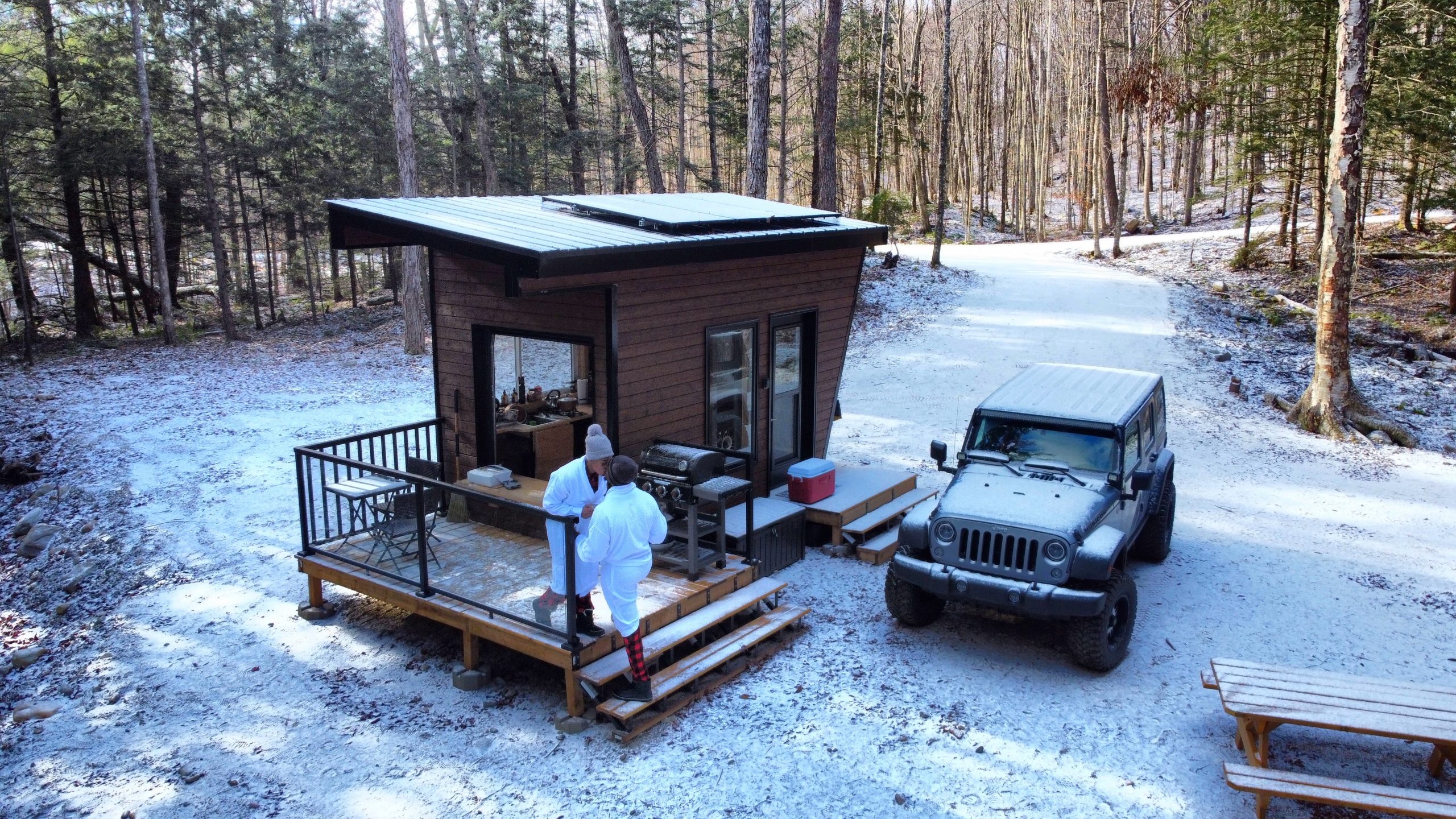 Our Guide to Winter in Muskoka

There's a reason why Muskoka is consistently touted as Canada's top cottage country destination. From rugged Canadian shield vistas to quaint and charming towns, there's something glorious to discover at every corner of this region.

This winter season, discover Muskoka from one of our tiny cabins in the woods. As your cozy home base to the area, we've rounded up our Top 5 Things to Do in Muskoka during your Cabinscape stay.



WINTER HIKES
Strap on your complimentary snowshoes and hit the trails! Our lakefront cabins are located right within Limberlost Forest and Wildlife Reserve, a private year-round wilderness haven with more than 10,000 unspoiled acres of mixed forest.

With more than 70 km of marked trails to explore, you'll find a suitable trail for all skill levels here. Explore The McReynold Valley Trail that starts from our property and connects to the primary trails in the forest.
You can also start your journey at Limberlost Forest's Main Entrance (just `5 minutes down the road') to explore some of the larger, more popular trails on site. For a moderately challenging adventure, hop on The Solitaire Trail, a picturesque 6.3 km loop that circles around the largest lake in the forest and leads you to Echo Rock Lookout.

For a guided wilderness experience, consider signing up for our guided hiking adventure with our knowledgeable local guides from The Trip Shed.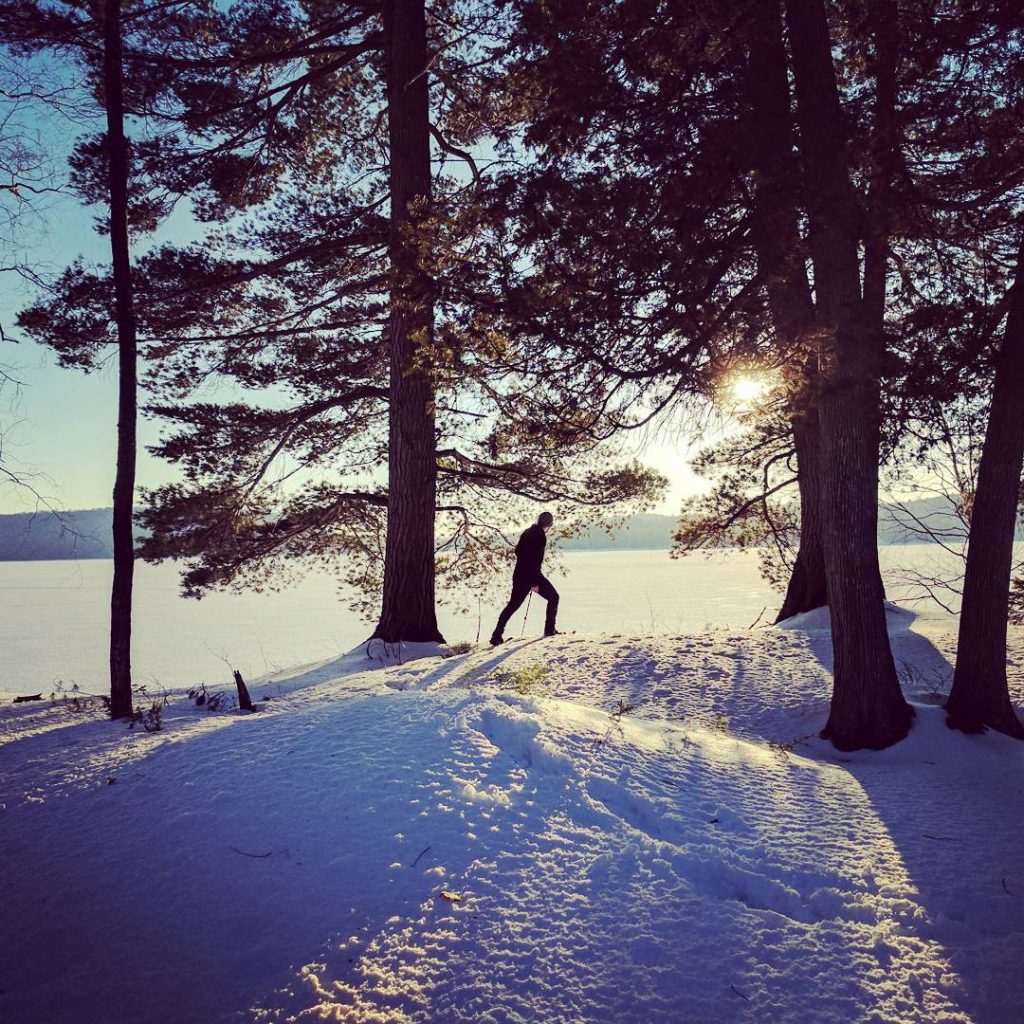 CROSS-COUNTRY SKI
Embrace adventure this winter and feel the rush of gliding through a snow-filled wonderland. Limberlost Forest has 25 km of groomed trails for classic skiing. Whether you're a novice or advanced skier, there's lots of trail options to explore, each one leading you to some magically epic vistas.

Bring your own ski gear or rent some from Algonquin Outfitters in Huntsville!
Fairway Ski Trail | 0.3 km
Ascension Trail | 2.8 km. Loop
High Lake Ski trail | 3 km Loop
Barlow Ski Trail | 13.6 km Return
Statue Trail | 1.1 km Loop
Spaniel Ski Trail | 8 km Loop
Helve Ski Trail | 5 km Loop
Buck Lake Ski Trail | 3 km Loop
Pointe Ski Trail | 1 km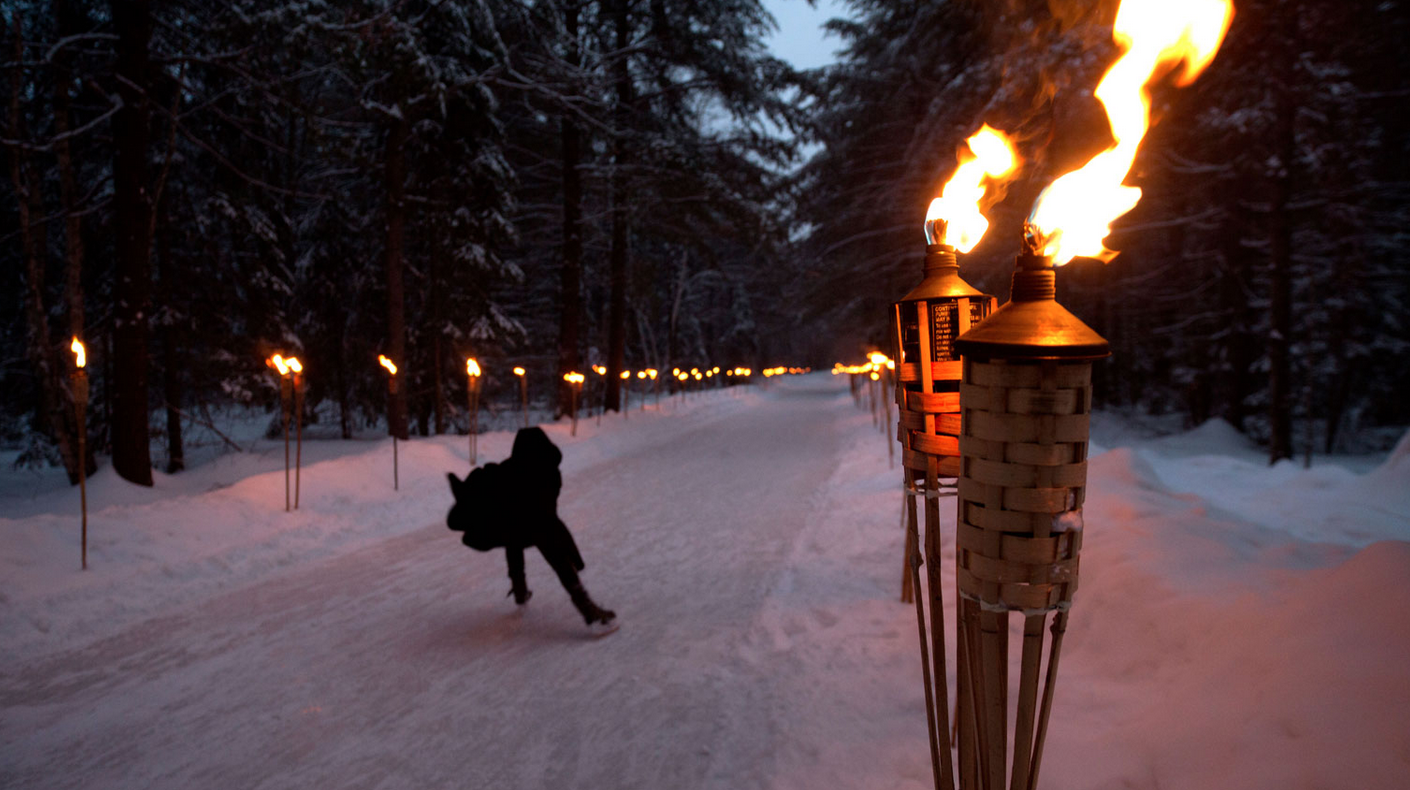 ARROWHEAD SKATE TRAIL
The 20-minute drive from our cabins to Arrowhead Provincial Park is well worth the excursion to experience Arrowhead's world famous Skate Trail. Named one of 19 Stunning Natural Ice Skating Rinks Around the World by Travel+Leisure Magazine, this fairy-tale 1.3 km skate through the woods is a must-do winter activity!

On Friday and Saturday nights, the magic gets kicked up a notch when the trail is lit ablaze with hundreds of tiki torches. Fire & Ice Nights are typically held in late January, depending on weather and ice conditions. Always consult Arrowhead's blog for the most up to date information.
Skate rentals are available at the park for $15
Admission is $21 per vehicle for a day pass
Book your day passes early as capacity limits may be in effect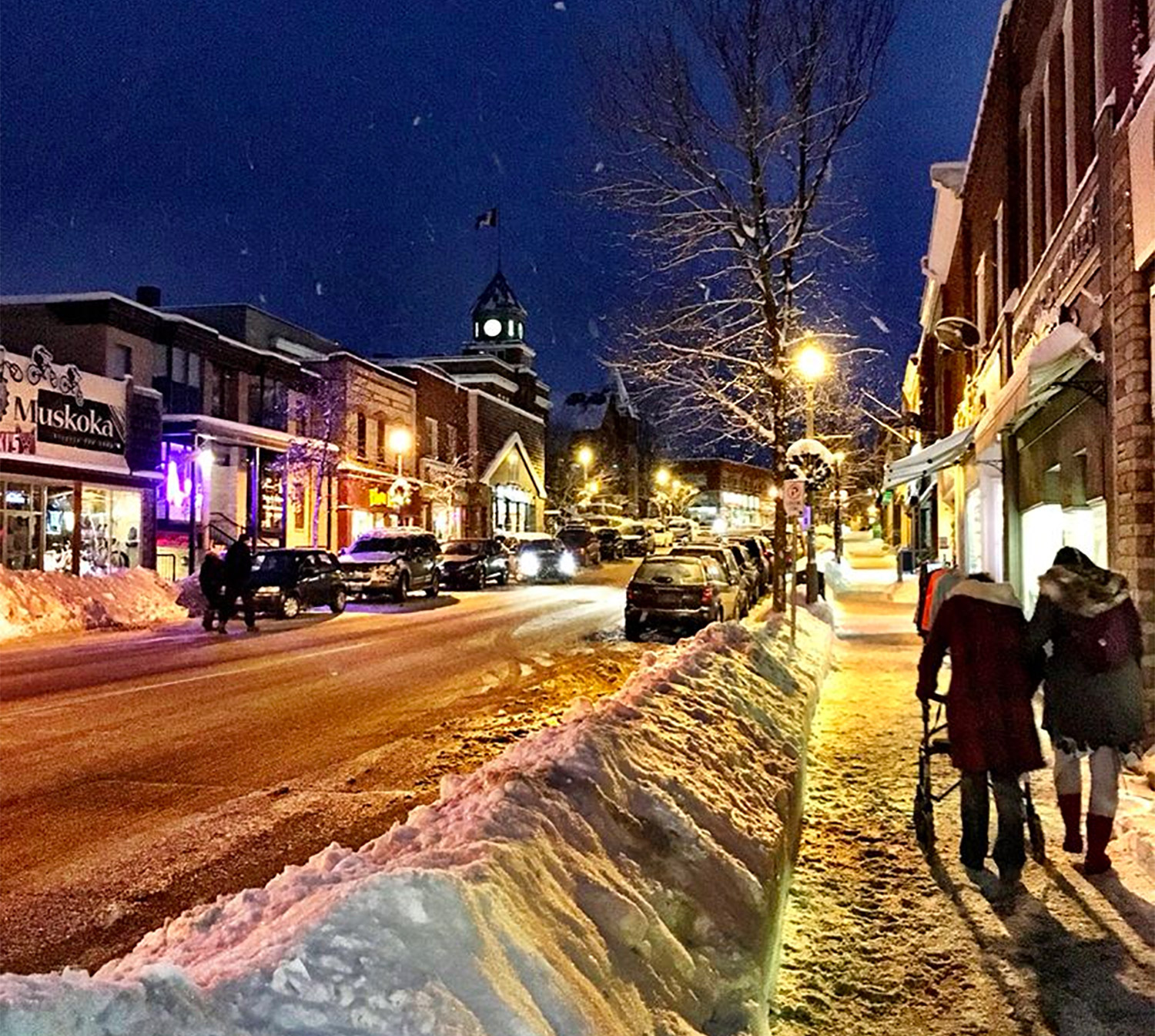 EXPLORE THE TOWN OF HUNTSVILLE
Visit the beautiful waterfront town of Huntsville, Ontario, the heart of Muskoka. This charming village is only 20-minutes away from our cabins and offers a quaint historic downtown with many shops, restaurants, cafes, art galleries and attractions.

Some of our recommended local favourites include Kawartha Dairy (cause it's never too cold for ice cream, right?), The Artisan House, 3 Guys And A Stove, Tall Trees Muskoka…. and so much more!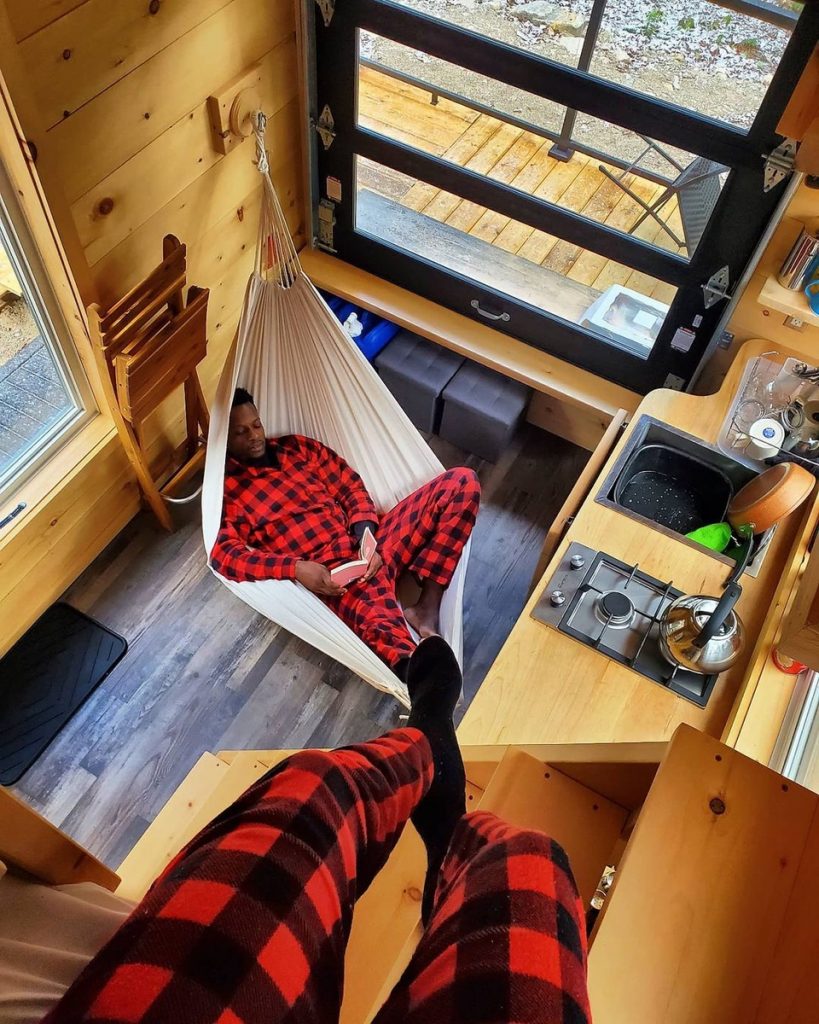 HUNKER DOWN
After a day of adventuring, take some R&R time and hunker down at home base. All our Muskoka micro cabins come with a comfortable queen loft bed and a cozy hammock for lounging. Grab a book from our little library, put your phone on silent mode, and drift off to another world while taking in some stunning lakefront views.

For dinner, cook up something warm and tasty on our two-burner stove or get creative with your culinary skills on the BBQ or campfire grill. Our tiny kitchens come fully stocked with everything you'll need to prepare those hearty, winter-weather meals.


Our Muskoka Cabins
Photo Credits:
Ski Header – Huntsville Tourism
Skate Trail – DiscoverMuskoka.ca
Hunker Down -IG @face_fleekbz